A lot has changed since I've last posted here. Over the past year I joined an amazing tech company called Grovo, transitioned to the fast-paced world of sales, and moved to Manhattan. While all of those have been very positive, unfortunately the time spent cooking this past year has been rare. In fact, even the thought of cooking and blogging stressed me out. I couldn't fathom how I could possibly engage in that type of creative work when I was so focused on doing a good job to accomplish my numbers. Fortunately, I work with a lot of wonderful people who encourage me to continue doing what I love along side of work, and who still call me "Nutrishus" despite how I've only fed them original recipes three times. (Sorry Grovosapiens!)
Alas, I am here a year later realizing that you must continue to strive for the balance between doing what you need to survive and nurturing your creative energy. Developing your passions fills you with purpose and ultimately gives you the fuel to continue to work as hard as you do. We will always have work, but it is so important to keep in touch with the people who make you happy and the hobbies that enrich your soul. And since a very young age, cooking has been part of mine.
Last night, in preparation for my day of cooking today, I watched Episode One of Michael Pollan's new docuseries on Netflix (based on his wonderfully educational book) "Cooked". I actually had the pleasure of meeting Michael two years ago and getting my "Cooked" book signed when I visited his lecture at the 92nd Street Y with my friend Emily. So you can imagine how thrilled I was that now his experiences and writings have been transformed into beautiful footage of the food he writes about so eloquently.
Pollan masterfully crafts his story and series into four dense chapters: Fire, Water, Air, and Earth. His hope is to inspire Americans to get back in the kitchen and realize that without cooking we as a species simply would not be here. And for me, his first episode "Fire" reminded me why I began cooking in the first place-- it makes me feel connected to nature which I love.
When I think of food I think of a number of wonderful pastimes: making delicious salads with my grandmother during childhood summers in Delaware, rolling Christmas cookies with my mom and siblings in Virginia, and culinary adventures in the kitchen and streets of France.
My inspiration this morning was the latter. When I studied abroad in France I was introduced to the magic of "Speculoos", which is a fancy way of saying super delicious cinnamon cookie that usually accompanies your espresso (Aix-spresso) . All of us ended up becoming addicted to these little cookies, especially when we discovered it came in the form of a butter "Cookie butter" (which by the way they also sell at Trader Joe's-- you're welcome). Because I'm going to visit my friend Sofie from French study abroad in a couple weeks I went to Trader Joe's and couldn't help but get Speculoos cookies. This morning as I was deciding on what to cook I knew I had to create something with them. I figured, what easier recipe than pancakes?
This is ridiculously simple to make, you're going to love the deliciously subtle flavor. Ready?
Here we go:
Speculoos Pancakes
1 cup all purpose flour
1 cup Speculoos cookies ( pulverized in food processor or Nutrabullet)
2 eggs (Organic, cage free)
1.5 cups Organic Whole milk (or, in my case this morning, 3/4 cup Organic half &half + 1/2 cup water)
1/4 teaspoon sea salt
1 tablespoon baking powder
Chocolate chips (if desired)
1 tbs butter (for the pan)
Preheat a cast iron skillet to medium low. Mix the dry ingredients (I like to plop them all in a Nutribullet and blend until they are a consistent fluffy lump free texture. Beat the eggs and milk. Pour the wet ingredients into the dry ingredients, until the mixture is thick but liquid enough that you can easily ladle it into a frying pan. Add 1 tbs butter to the pan, portion pancake-size amounts of batter into the pan. When the pancake is relatively golden brown on the edges (approx 1.5 minutes) flip to the other side. Voila!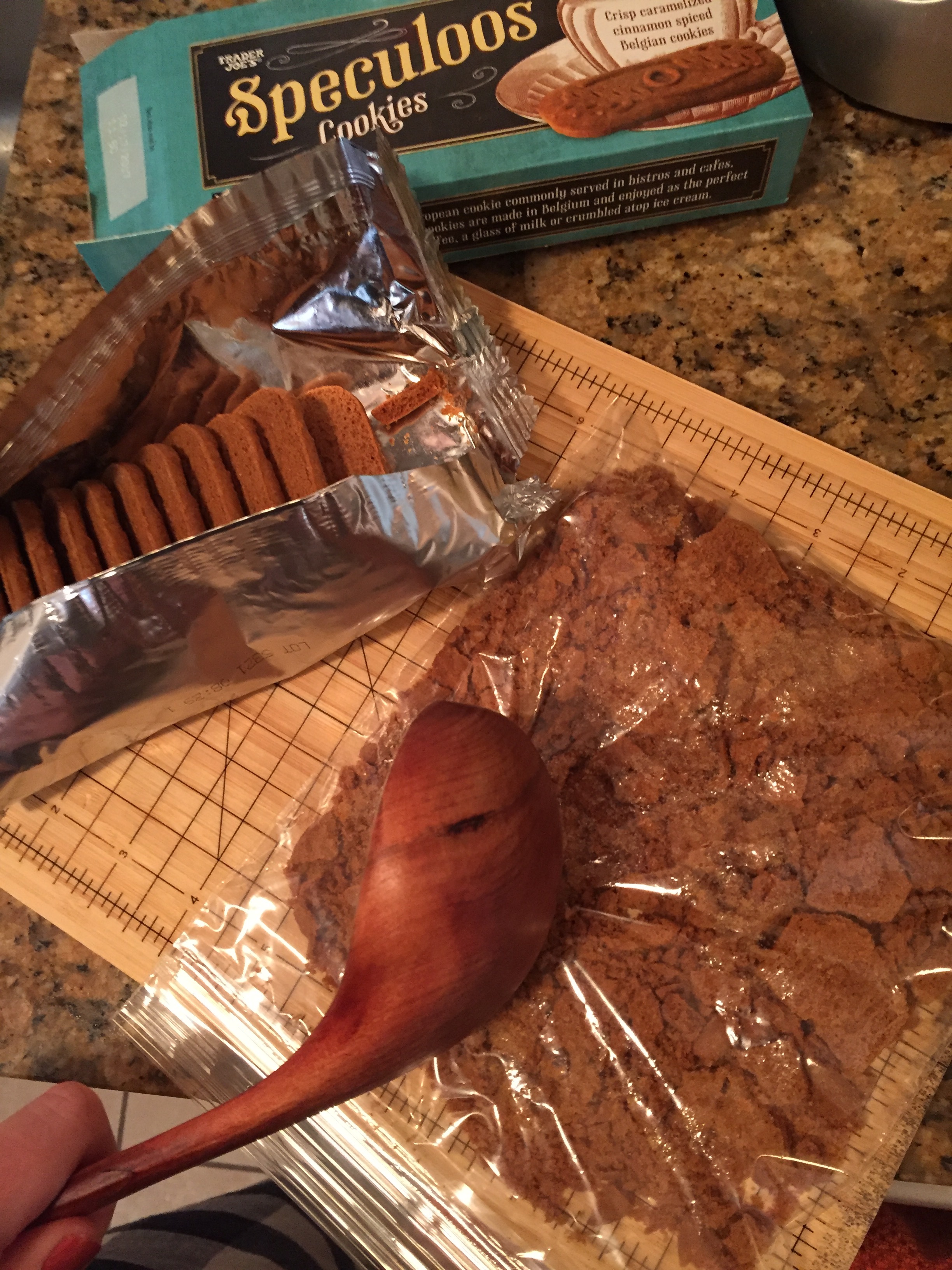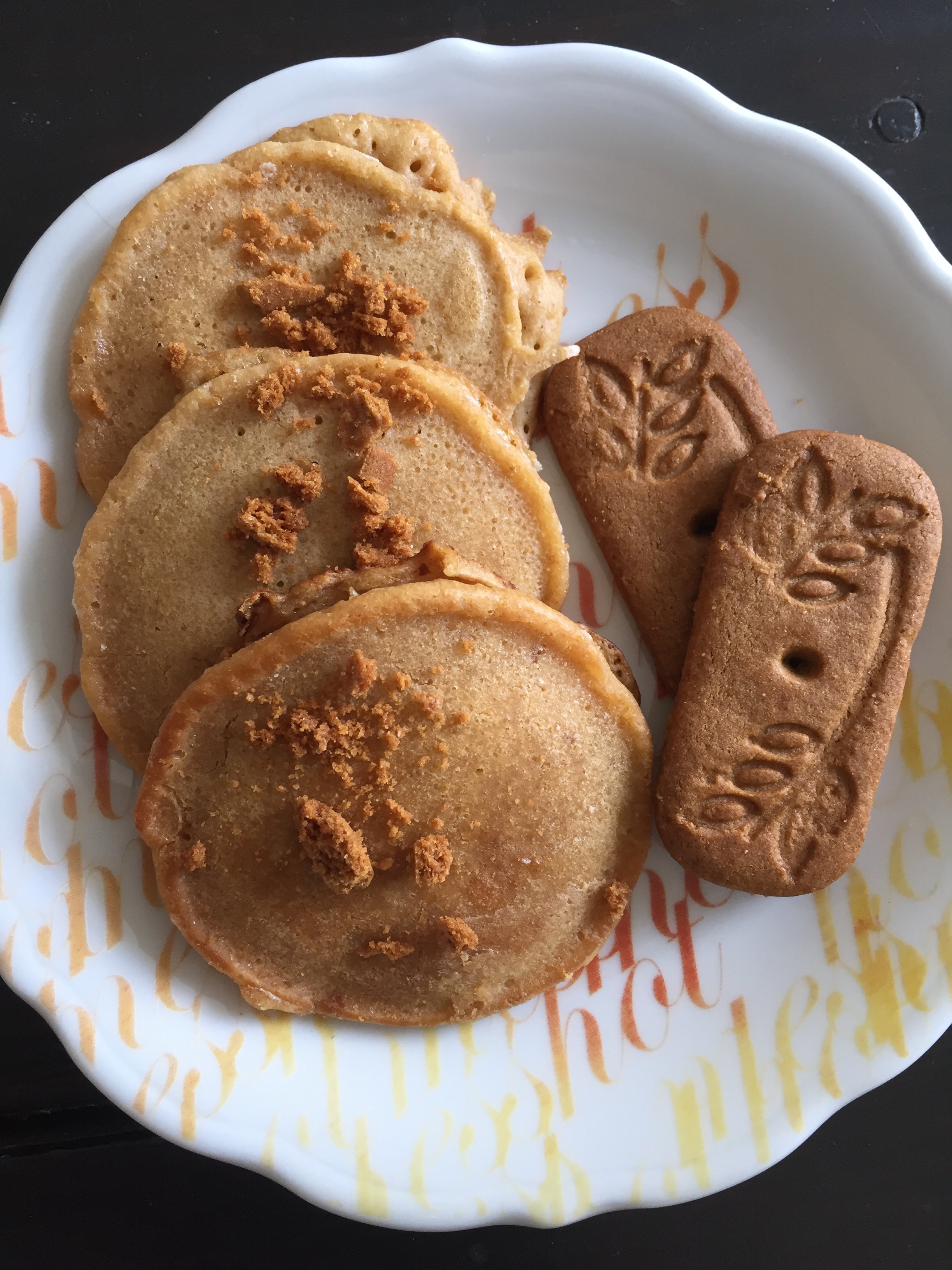 If you're feeling extra French, make these really really thin (like crepes!) and add Nutella! If you're not drooling yet I don't know how to help you.
That's all for now, enjoy your Sunday, everyone!
Oh, and.... Bon appetit et bonne sante (MAN it feels good to say that again!),
xox, Nutrishus